shopping_basket
0
Shopping Cart
 
Skin-to-Skin T-shirt
VIJA DESIGN Kangaroo T-Shirt
It is not a surprise to anyone that the benefits of carrying Baby are innumerable: from stopping Baby's crying through precious close contact, to the very practical side of securing Baby in unsafe places.
However, a newborn, premature, or simply a little more insecure baby needs more: the caring skin to skin contact with Mom - as often as possible - as recommended by specialists in neonatology. The benefits are often underestimated.
Another big advantage, this t-shirt allows a quick and discreet breastfeeding without holes or slits, even for twins synchronized for lunch! You can therefore appreciate it throughout the nursing period – even long after Junior is too heavy for the integrated carrier.
Refer to your actual bra size:
32A-32B-32C-32D-32DD-34A-34B = X-Small
32DD-32F-34C-34D-34DD-36A-36B = Small
34DD-34F-36C-36D-36DD-38A = Medium
36DD-36F-38B-38C-38D-38DD-40A-40B = Large
38DD-38F-38G-40C-40D-40DD-40F-42B-42C = X-Large
38F-38G-38H-40DD-40F-40G-42D-42DD-42F-44C-44D = 2XL
You might also like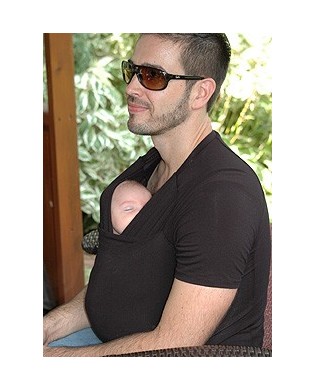 No customer reviews for the moment.
Customers who bought this product also bought: